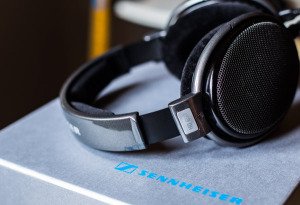 Having a good pair of headphones will help you in many ways. First, you can hear all those tiny details hidden in your favorite songs, discover new things and enjoy music much more. Second (but not less important), headphones can be an invaluable tool to check your mixes or masters, especially when you don't have a perfect monitoring environment and you need to be confident on how your song will translate in the real world (HUGE thing!).
Said that, today I want to tell you something about my headphones of choice: the Sennheiser HD650's.
Let's begin by saying these headphones have been Sennheiser's flagship for years; they're meant to be considered Hi-Fi/listening reference class headphones and so they're supposed to sound good, feel comfortable, be reliable. Is it true? To me, the answer is nothing but a resounding "YES".
Let me go a little bit deeper with it…
The Sound
If I had to describe these headphones using a straight single word, that word would be "balance", by no means. That's exactly what you'll find in these cans.
The low end is there in all its "huge-ness" (I don't know if this is a technical term, but it gives the idea). Forget the messy bass of your earbuds. Even at high levels, they won't cause distortion neither in the bass nor in the other frequencies.
Everything is kept clean, defined and again, balanced; lows will not mask the other stuff. Bass here are solid, rounded and really, well… low!
Having a set of headphones capable of going that low can let you spot what's actually happening down below. Although I have a good pair of studio monitors and a well treated room, properly hearing deep lows (say 55Hz) is always an issue. The HD650's keep saving me from madness on this thing.
Mid frequencies are really pleasant, they'll not hurt your ears even after many hours of listening. The midrange is well represented, the way a Hi-Fi listener will appreciate, but not necessarily the way an engineer will like, as mids are not as clinical as on other maybe "best-suited-for-mixing" cans.


Side note:

 mids will give you their best on vocals. Never heard a voice sound as beautiful as with these headphones! Take it as it is; I'm not that smart to describe you why.
Highs are perfect, the best they can be, but these cans NEED a serious burn-in time (read below).
The "shiny-ness" (again, super technical term…) is there.
Sound is open and clear and this contributes to widening up the already great soundstage in a really positive way.
No harshness or fizzyness detected.
There is a good separation between the tracks and, most important to me, outstanding separation between the frequency ranges. Lows, mids, highs, everything has it's own place.
I can really "feel" the bass pumping while highs are shining over my head with mids in between.
Click the picture below to zoom it and see all the technical details, straight from Sennheiser's website.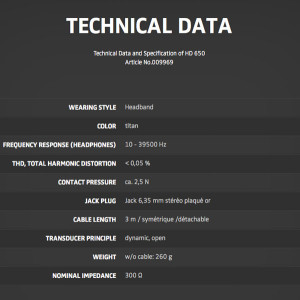 The Design And The "Open-Back" Thing
These Sennheisers are built with quality in mind for sure. They're lightweight with soft and large earpads that will completely fit around your ears. To me, this single thing is a big win, as my ears tend to suffer a lot for uneven pressure caused by smaller headphones. They will clamp in a very comfortable way on your head, without swinging around when you turn.
A very important thing to notice is that the HD650's are "open-back" headphones. 
This means there is basically no isolation between your ears (or the headphones) and the outside when you're wearing them! You can clearly see the other side if you look through the metal grill.
I'm not going to use them while tracking, since everything will bleed out from the cans and picked up by the microphone. That is the downside of "open-back" headphones and we're fine with that.
The great thing of "open-back" cans is that they'll sound better than "closed-back" ones!
Especially in the low end, by having an "open cage", sound waves are free to travel and decay in the distance without causing unwanted resonances and so, better frequency response, definition and overall sound.
Burn-In Time Needed!
When I got these headphones, they weren't sounding as good as they're sounding now.
The low end was a bit wrapped and the top end was definitely masked out. There was a a veil in front of it, something similar as having a piece of cloth in between your ear and the driver.
I have to tell you: I felt scared!
How could it be possible to have that kind of limitations on a high-end pair of headphones?
The answer: they simply needed some burn-in time, a long burn-in time, a super long burn-in time…
In the beginning, I was very skeptical about the burn-in point, but then I give it a chance.
I plugged the HD650's to my old computer, opened up iTunes and set it to repeat playback of my entire library, on shuffle. Then I went back to my business…
Did this for about 7 days stopping it from time to time, for a total run of about 120hours.
Yes, HOURS!
Crazy? Maybe…Believe it or not, now it's like having another pair of headphones.
They're really different, they're really giving me what I was expecting.
Just in case you're wondering: I know I didn't get used to the way they sounded, since I did the burn-in the very next day after the purchase and haven't used the cans meanwhile!
A Bang For Your Bucks?
If you read something around here, you know I'm not the kind of guy who thinks expensive gear will necessarily make your music better. Skills and practice will… but this time I really felt a change of mind was necessary.
Maybe you've already guessed it: the HD650's are expensive headphones.
At the time of writing, their price is around 450$-500$. 
You'll most likely agree this is an interesting price tag for a pair of headphones, I know, but let's try to see this from another point of view…
How much would you spend for a nice pair of studio monitors?
And after that, are you really sure those speakers will give you the value you paid for in your room, maybe not-so-big, maybe untreated and so on?
Sure, they're not the same thing, but the HD650's will give you a great and reliable perspective on how music should sound!
That's a thing you can hardly find on a 500$ pair of speakers. You'll have to raise the price (and, most important, have a nice room to really hear the benefits!).
That's why I consider those headphones a real bang for my bucks!
Closing Notes
As you can see from the technical specs above, the HD650's are built with a nominal impedance of 300Ω. In a very few words, this means you'll need to give them a lot of power to make them work. Chances are they won't work with your tiny mp3 player (I tested them on my iPad and they work great, though…). They'll most likely work fine with your computer's built-in soundcard and for sure with any commercial audio interface. FYI, a 3.5″ to 2.5″ adaptor cable is included in the package.
I ended up using these headphones to check every single mix I do and they're my buddies for mastering works as well.
Let me clear this out: I'm not going to throw away my beloved studio monitors! I will keep using both them and the HD650's. No way headphones can replace my speakers!
These headphones are especially useful to me to hear subtle EQ changes and tweaks things when every little move and detail is important.
By listening to great recordings on these reliable cans, knowing I'm hearing a good approximation of the real thing, my personal "mind database" of how music should sound and what "better" means grew up a lot and keeps growing at every listening.
I can really tell if that weak low end I'm hearing is caused by the room or not, take it away from the equation and be aware of what's real and what's not! On the entire range. With a <500$ purchase.
Confidence! To me, this is not something a new pair of speakers in a bad room will give you.
Not bad for just a pair of headphones, right? Feel free to share your thoughts below.