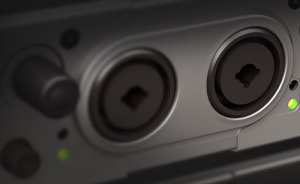 Some time ago, we talked about how you can jump into recording with your first studio microphone.
Now it's time to spend some words on another essential piece of equipment that will let you connect that microphone somehow and carry all of your awesome sounds inside your computer!
A cable? You'll probably need that too, but no. Unfortunately, that's not enough…
To do so you'll need what's called an audio interface.
Let's dive into it…
Like the name suggests, it's nothing but an "interface", a connection between the world we live in and your computer. It's just a simple box that plugs via USB or Firewire and will be responsible of taking the analog signal coming from your microphone, keyboard, bass or whatever, convert it to its digital counterpart and get it into the computer so it can be processed.
Note: All this analog and digital stuff may be a bit tricky to understand in the beginning… But everything is explained inside my eBook "The Recording Roadmap". Don't miss your FREE copy!
What You'll Get
Inputs: An audio interface will give you all the inputs you need to start recording.
A 2 inputs box is likely the right choice for you. With it, you can record up to 2 channels at the same time. It will be enough if you want to record your voice while simultaneously playing your acoustic guitar, for instance, and will let you track your stereo keyboard as well.
Preamps: Since the signal coming from your microphone is very low, some kind of device that can amplify it up to a certain workable level will be needed.
That's why every single input of your new interface comes with a great built-in preamplifier (preamp). Each input will have its own gain knob you can use to set the recording levels and a clip light that warns you if you're recording too hot.
Phantom Power (48V): Moreover, if you just got your first studio condenser microphone, the interface will also provide you that "48V thing" it needs to work.
Outputs: Every audio interface comes with a series of outputs you can plug in both your studio monitors or headphones and listen back to your tracks.
Which One To Buy?
There are thousands of audio interfaces available on the market, in many different sizes, shapes and prices. It's very easy to get lost, so here's my simple recommendation: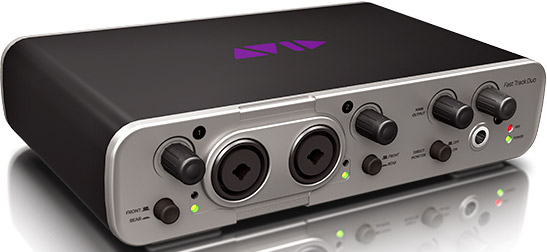 I used a 200$ M-Audio FastTrack Pro (my very first interface, now discontinued) for about 9 years, with outstanding results! (I then sold it, but it was still rocking hard).
This Fast Track Duo is the one that comes closest to that…It is even better actually and I highly recommend it to you.
This box a is 2ins/2outs very easy to use and great sounding device, both PC and Mac compatible, with all the features listed above. It's USB powered, so no external power supply required…You can hook it to your laptop or iPad as well and record on the go, wherever you are and whenever you get the inspiration!
Furthermore, with its Direct Monitor knob, you can listen at both the signal you're recording (you playing…) and what's coming from the computer, in realtime, with no latency!
You can then record, edit and mix everything with the included Avid's Pro Tools Express software (yes, you'll get a version of this industry standard digital audio workstation with it, for free!).
You'll even get an iLok USB dongle (worth about 50$), an essential tool needed for Pro Tools to run and required by some popular plugins as well. So, in case you want to get your hands on one of those plugins in the future (or just try some demo versions), you'll already have the required iLok!
Get Started Today!
There you have it! For less than 200$ (taxes included) you can have a simple, very versatile and super portable Pro Tools-powered rig, that'll start your recording journey today and let you turn your musical ideas into real songs you can share with the world. It's really A-M-A-Z-I-N-G how much technology could help us on this side. For that price, it was just a dream some years ago!
Save some money and just get started! You won't regret it when'll hear your first song come to life…
Record something and feel free to share it below…
Would be great to hear your music and hear your success story!