Knowing the tempo of a track you'll be working on will make your life a lot easier!
It will dramatically speed up the editing process later on and automatically keep all of your time based effects (delay anyone here?) perfectly in sync.
Let's take a brief look today at the fastest and easiest way I know to find and set the tempo of a track in Pro Tools.
Tap It In!
First, you'll have to enable the MIDI Controls within your session. To do so, just right-click on an empty spot on the top bar and then select and click MIDI Controls.

Once done, you should see this little buddy below…
Click on the Conductor Track and disable it, so you can manually enter your tempo, and then select the tempo.

All you need to do now is press the "T" repeatedly on your keyboard, in time with your music.
By clicking on that tiny note icon next to the tempo, you can change the rhythmic pattern the DAW will read from your tapping (quarter notes, eight notes…).
Check It!
Now that the tempo has been set, let's check if it's right!
Make sure the Grid is enabled (the Grid box should be lit green), then zoom in on the waveform of your kick drum or any other rhythmic instrument and look if the transients are locked up and perfectly aligned to the grid.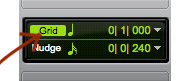 To double check, skip further along in your song and look again at both the transients and the grid. If everything is still locked, then your tempo is right, otherwise you can try to manually increase or decrease your BPM till the transients are completely aligned to the grid.

Voilà!
Done! You just locked your song to your Pro Tools session. It's a great little thing you should do everytime you open up a new session, before starting all the mixing or editing works.
It will make your workflow a lot smoother in just a few simple steps. Enjoy!