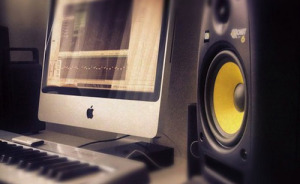 Although it's true that you can address all of your monitoring needs with nothing but a pair of headphones, a set of studio monitors will give you a reliable point of view on your music and will free you from having those annoying cans blasting your ears and squeezing your head for hours.
Choosing new monitors for your home studio is kinda like choosing a secondary set of ears. They will be your new reference point when working on your music and there are some important things to consider when approaching their purchase. But how to make the right choice for YOUR needs?
Let me give you some guidelines to help you get out safe from this jungle!
Set Your Budget
One of the most important factors, as always, is the budget. Before thinking about other things, you need to determine how much money you can spend… After that, you'll just have to filter out all of those speakers that are out of your range and make your choice, with no regrets.
There are several manufacturers, the variety of products available is so wider and the market so competitive that today you can easily find a good pair of studio monitors for under 300$ without wasting too much time searching around.
However, if your wallet is a bit bigger then you can think about doing an investment and maybe get something around 700$ to 900$.
Note: Please don't forget that a "bad" room will have a huge negative effect on you sound, so it's a bit pointless to spend 3000$ on monitors just to put them in a tight and untreated space.
Take this into account before getting a more expensive pair of speakers, as it might be a really bad waste of money!
Which Size?
Once your budget has been set, the next thing you need to consider is the size of your new monitors. Since you'll likely put them right on your desk (or on speaker stands close to it), the so called Near-Field monitors will be the winners.
While Mid-Field and Far-Field monitors can be placed in the distance, Near-Field ones are meant to be placed close to your listening position (let's say 3 to 5 feet from it), and they usually come with speaker sizes ranging from 3" to 8".
Bigger monitors fire out more energy, move more air and this will usually give you "more bass"…We all like bass but that doesn't mean your room will be able to actually "handle" it! So, in simple terms, you'll need to match the size of your new speakers to fit the size of your working space. It all depends upon this.
Especially in smaller home studios, there's not enough room for that bass to travel. Chances are you'll only get a messy, rumbling and useless low end you'll be forced to cut somehow, as it will heavily compromise the whole sound you'll hear. Not really useful I think, especially if you paid more money for bigger speakers only to get worse results in the end!
If you have a typical spare room (let's say 10×12 ft), my suggestion would be to go for the 5". However, if you have the luck to work in a bigger room (let's say 16×20 ft or more), then maybe you can consider a pair of 7" or 8" monitors.
Just Learn How They Sound
This is probably the most important thing when talking about speakers: you have to learn them, learn how they sound in your space.
People seem to skip on this, thinking the speakers will do the hard work for them, and that better speaker will instantly give them better mixes. That's not true. YOU will do the hard work, by learning them. It takes time, but you can get good results only by knowing your gear and learn how to use it, not by buying that fancy pair you read about on a magazine.
Don't fit the needs of the market! It is just trying to sell you something (it's "the market" after all!).
Get a pair that fits YOUR room and YOUR budget and then don't look back!
Just listen to a lot of your favorite records, work with them, mix different songs, make comparisons with your previous works and on other systems to learn how your monitors (and your room) are shaping the sound.
Using just 2 words: learn them!
After all, how can you trust them and make a good mix otherwise?