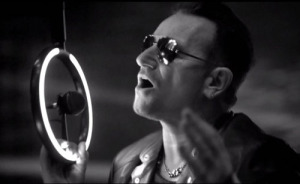 Maybe you've been told you absolutely need a condenser microphone to make a solid studio recording (did they tell you why, at least?)
You know what? I don't think so. I think you can get really good stuff out of a cheap dynamic microphone as well.
That's what I want to write about today, while answering a question I received from a reader, Tony.
Hi Fab, thanks for you tips! I am a singer and I play live with my band.
The problem is that I have just a SM58 dynamic microphone…
Can I use it to record something in my home studio and still get a good result?
The Proof
I've been a huge U2 fan since for a long time now and, whether you like them or not, there's a little thing you should know. Here it is:
"It's the people that are important, and the machines and the quality of them is very secondary. It's like recording Bono's vocals with an SM58 and loud wedges. The important thing is the way he sings, not whether there's spill or not […] Bono's vocals were largely recorded with an SM58 […]"
It's Robbie Adams talking there, one of the men who recorded U2's albums "Achtung Baby" (1991) and "Zooropa" (1993). And I'm pretty sure Bono kept using the 58 on the later albums as well…
And what about their latest single "Invisible"? Sounds like a 58 to me…
The end point here is that he used (and uses) a SM58 both on stage and in studio, just like Tony would like to do!
The Reason
But why the heck is he using a cheap dynamic microphone like the SM58 (100$), when he could easily use an expensive 2000$ condenser one?
Well, in a few words, and just like Robbie is saying, it's not about the gear, it's about how well you know it and how you use it.
I'm pretty sure they tried with several different microphones and then went for the one (that SM58) that was giving them the closest representation to the sound they wanted as the end result. Or maybe Bono feels just comfortable with that microphone. He likes it, he knows how to wield it…If it works, why change it?
What's the point of recording with a super detailed condenser microphone, with solid lows and crystal clear highs, if you know that once in context within the mix, your final track will have to sound more midrangey (let's say, just like an SM58)? Just use an SM58 right from the beginning and save you some EQ work during the mixing stage!
It all depends on the sound you want to get. An expensive Neumann condenser will likely sound "better", more precise and rich, but won't necessarily be the better choice for your mix or your voice.
The Essence
Now, I can' t tell for sure which one will be the best pick for recording Tony's vocals…
What I can tell is that he should not be held back from recording just because he doesn't have THAT condenser microphone. He can easily prove all his friends they're wrong by recording a killer track with its 58. There are no reasons why you should not get good recordings out of it. Just give it a chance, learn how to deal with it, experiment and listen! Maybe it will be your choice, maybe not…
What's sure is that you will learn a lot in the process and DOING is the only way to learn and get better. Procrastinate till you will get a condenser microphone (or any other piece of gear) would not be a good choice. Use that SM58 and make it happen now! U2 did it, you can do it as well.
I will post this sentence again:
"The important thing is the way he sings, not whether there's spill or not."
It's a fact that U2 topped the charts for weeks with "Achtung Baby", reaching millions of people around the world, even if that album is probably not the most Hi-Fi sounding record out there, sonically wise!
In essence, all you need is a great song, an even greater performance and something to communicate! These things will let you reach the soul of your audience. They won't care if you recorded your song with top notch equipment in a top studio facility or with nothing but your simple home studio rig in your basement.
Don't let the gear dictate the rules of the game. Just sing and let the performance be the star!
–
And if you're planning to record some drums, read this: "I used a Shure SM57 on the snare, and an SM58 for overheads." – Robbie Adams On Recording Drums For "Achtung Baby"
The 57 on the snare is a classic, but what about that 58 for the overheads? Seems this cheap microphones are kinda like transformers somehow…