It's one of the most popular audio myths around and I'm sure you already heard about it…
It goes like this: "You can't master your own music in your home studio…To do some mastering works, you need a perfect environment filled up with huge speakers and tons of expensive gear! …and a set of golden ears as well".
Fortunately, this is just a myth and it's not completely true.
You can't replace a pro studio facility (with a top mastering engineer driving it!) but you can do mastering in your home studio, indeed.
To prove it, today I want to write about the interesting case of Ian Shepherd.
For the ones that don't know, Ian is a pro mastering engineer and runs the Production Advice website. He's the man behind that cool plugin named Perception I reviewed some time ago, as well.
Now, Ian worked in different top mastering studios and does mastering for clients worldwide for a living. He is legit and knows the craft, so, if you don't trust me, you should definitely trust him!
The cool thing about all of this is that he recently finished building his new home mastering studio!
Mastering At Home
What if I tell you that now Ian does real-world mastering demos and assessments out of his humble home studio day in day out?
What if I tell you he is not using expensive converters and shiny outboard gear?
What if I tell you that he says you can get a truly useful mastering perspective on a great pair of headphones?
Sounds unbelievable, right? But that's the way it is…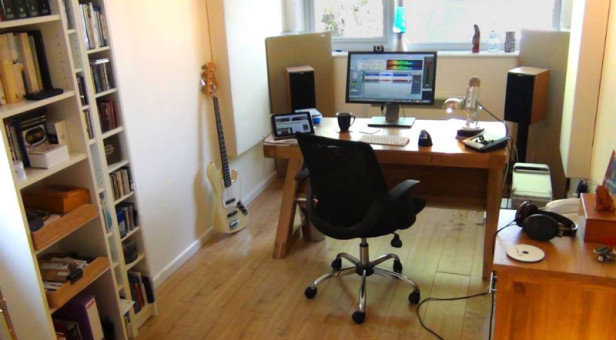 As you can see from the picture, Ian's studio is nothing super fancy. It's just a really nice room with some essential carefully placed acoustic treatments and some basic furniture and gear. That's it!
A home mastering studio like this can really get you fantastic results with your music.
The rest of the equation is all about you and how well you do know your tools. There's no magic bullet or secret sorcery.
A Word On Equipment Needed
You won't need to setup a new home studio to do some mastering. You can use your actual space for that purpose as well! You need to know it super well, though…
Knowing how music should sound is the first step.
Having some good records you know top to bottom will help you very much to pick the very best position for your speakers and your chair within the room, and will cost you nothing but some time and maybe some headache.
You need to know your speakers as well. The brand won't matter that much; you can easily use that old-but-great set of Hi-Fi speakers you had in your living room if they sound good, but you need to know them well and, foremost, how they are acting within your space! 
Room acoustics are always an issue and sometimes may be difficult and/or expensive to fine tune your space to get the correct response (especially on the low end). That's when a good pair of headphones like the Sennheiser HD650s can come really handy. If you know you can't trust your room/speakers that much, but you have a reliable pair of headphones, you can use them to spot some problem areas by comparing what's coming out of the cans with what's coming out from the speakers, and try adjusting their placement and settings accordingly till it sounds good in your space.
Doing your mastering entirely on reference headphones and then double check it on other systems outside of your studio might be a chance as well.
Concerning the audio interface, Ian is using a simple 150$ T.C. Electronic Desktop Konnekt 6 box. I haven't tried it yet, but I trust Ian (and his ears), so I can assume it is sounding pretty good…That's just to point out that you won't need a super expensive set of converters to get decent results when mastering at home.
Have A Closer Look At Ian's Studio
Ian has been so kind to put together a 4-part video series to show us all the "behind the scenes" of his new home studio. It starts with basically nothing but an empty and gloomy room and ends with what seems to be a super comfortable and enjoyable home studio.
Here's the link to end result. (To access the whole series, click here.)
By the way, have you ever tried some mastering in your home studio?
If no, well,  after this there's no reason why you should not give it a try, right? 
…And if yes, what have been the biggest issues you challenged concerning that?