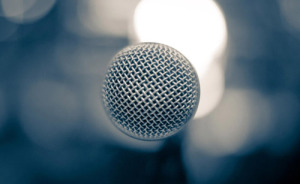 The rooms we work in as home studio guys are far from being "acoustically perfect" or, most important in this case, soundproofed.  Issues are everywhere: we are getting some unwanted reflections from our bare concrete walls and maybe we can hear that dog barking in the distance even if we live in a quiet place, or the traffic noise from the outside… Things like that, you get the idea.
Wether you're going to record with a cheap microphone or with a top-class condenser, it changes nothing on that side. Those problems remain. But with today's post I want you to focus on a simple little thing about your microphone that you may have missed… I use to call it the "null point" of the microphone.
A Different Perspective
We mostly use microphones that feature that so called cardiod pattern, meaning they'Il basically only pick up the sound coming from the front, rejecting sides and rear. If you followed my suggestions and got your first studio microphone, it will have a cardiod pattern as well.
When getting ready for recording, we usually set up our stuff by thinking only from the point of view of the source (let's say the singer); we don't mind about what the microphone is hearing from the back, right? After all, why should we? We chose that cardiod microphone just because of that. Why should we care about the back if we know the microphone is basically hearing nothing there?
Note: Well, it is actually hearing something even at its back but it is so lower in volume if compared to what it is getting from the front that we can make it simpler and say that our microphone is basically hearing nothing from its back.
One Simple Move
That's the whole point. It is hearing nothing there! So, absolutely for free, by just placing the microphone "null point" towards where all of our noises are coming from, you can dramatically reduce the amount of unwanted noise that'll otherwise be printed alongside your awesome vocal take. We can heavily attenuate everything we don't want with just one simple move!
You can make use of this trick to deal with some problematic reflections in your room as well. Let's say you want to record your vocal and let's say you have a window in your room…That window is made of glass and it will heavily reflect some frequencies. Now, you may place the microphone so that your back is facing the window or you can put it so that your face is facing the window. It's up to you…Which one will you pick? Seems there is no difference, right…? Well, you guessed… There is a difference,
If you point the microphone towards the window (your back facing the window), since it will pick up everything coming from the front, all those nasty reflections caused by the glass will be picked up. Conversely, if you point the microphone the opposite direction (towards the wall on the other side, with you looking at the window), reflections and noises will hit the back of the microphone, that "null-point" where the microphone is deaf, thus reducing the amount of noise we don't want to be recorded!
It's Free And Will Just Make Your Recordings Better!
It take me some time to actually stop and think about this trick when setting up a session, but now I'm used to that and it's no lie to say it's the very first thing I think about when I have to set up a microphone for recording. You should definitely do the same. Take this no-cost-feature into account and take advantage of it while choosing your mic placement. It can only help you get better recordings! (And that's the whole point of this entire site, isn't it?).
If you think it's the same to point the microphone towards point A or point B, then think again: choose which one between point A and B is the noisier and just point the microphone in the opposite direction, so that its "null point" is facing the noise. That's it! Super simple.
You can use that "null-point" for everything: computer fans, air conditioning noises, spills from other instruments playing, tropical animals fighting in your backyard…Everything.
Just think about it next time you need to record something and move that microphone. Remember: it all starts with a good recording. The better the source, the better the final result!