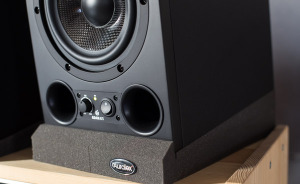 If you think recording and mixing is all about plugins and gear, then sorry, this post is not for you. But, if you want to read how to improve the way you hear things so that you can make better mixing decisions (without emptying your wallet), then keep reading!
On some previous articles, we said the room we work in plays an important role on how we perceive sounds and that's a bit pointless to spend tons of money on speakers just to put them in a bad room. The end point is you need take your room into consideration.
Today I want to review what's likely the simplest and most cost-effective product to begin thinking about your room, the Auralex Mopads.
Speakers Isolation Primer
Let's start by talking briefly about the problem first. Speakers that are placed directly on top of a desk without any isolation from the surface itself are going to "pass" a lot of sound (thru vibrations) to the desk itself and consequently to the floor.
What we get without isolation goes from weird resonances (your desk will rumble!) to other kinds of phase issues and things like that. All of this it true especially for the low end, as your bass is kinda going to be "sucked up" and distorted by the desktop.
Since we don't want this thing to happen, we need to isolate the monitors from the rest as much as possible, so we can virtually eliminate any kind of "sound transmission" and get a clearer, punchier and more defined representation of our low end. 
We can get there by putting something below the speakers, something that can decouple them from the surface (theoretically as the same as they're floating suspended in the air). Not everything will do the job, though… That's when the Auralex Mopads come into play!
What Are The Auralex Mopads?
The Auralex Mopads are monitor isolation pads made of foam meant to be placed below your monitors to decouple and isolate them from the surface. But, if it's that simple, why can't you use just common foam or, let's say, a blanket? Because, in simple words, the Mopads work way better than standard foam (I can tell this from personal experience, as you will read below).
Compared to other softer pads, the Mopads have been designed for the task and are made of a thicker and more dense foam. As a rule of thumb, the more dense the foam is the better decoupling you'll get! So again, less energy sucked by the desk, more energy reaching our ears!
What's In The Box?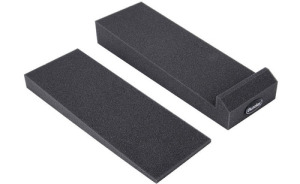 The Mopads come as 4 separate pieces of foam, each 30cm deep and 10cm wide. Then you can basically couple them 2 by 2 and set them apart from each other to fit the size of your monitors or your personal positioning preferences (vertical or horizonal). Facing them from the front, they're angled down, with a nice relief that will keep your speakers in place.
Furthermore, you'll find 4 more sheets of foam in the package. They're thinner and are meant to be used as shims to get the monitors angled or raised down or up so that their tweeters can perfectly point your ears, letting you get the best placement, which is crucial!
Note: Of course, if your monitors are lower on your desk and you want them to point up instead of down, you can easily run the Mopads in reverse. Everything will work fine that way, too!
Less Rumble, More Sound
For years I worked with a pair of softer pads that came with my first monitors, but then, despite I was pretty skeptical if they're gonna do anything, I bought a set of Auralex Mopads…The difference was instantaneous!
When I set them up I instantly noticed a much better low end response. My brain woke up all of a sudden: there were more bass, but it was not messy! More bass but more precise as well, much tighter and easier to mix!
I was almost used to feeling my desk rumbling at louder listening levels. For some time, I just thought it was ok… The situation completely changed with the Mopads. Now I can listen at higher level without seeing my keyboard shaking below my fingers! (And, just to be precise, I have a pair of Adam A7Xs which fire out quite a lot of bass).
Geek Level (Before And After Comparison)
I'm a nerd. I know. I like to get deeper with things, trying to find scientific proofs that can testify what I'm hearing. It's just the way I am and I have to accept it. So, if you're just a bit like me and want to have a tangible proof of the changes made by Mopads, you can do that, and here's how.
Maybe you already know every MacBook from Apple comes with a thing called Sudden Motion Sensor. In simple terms, this sensor is able to detect if sudden movements are happening, so it can tell the computer to shut off fragile hardware, like mechanical hard disks.
A cool use that's been done with the sensor, is to use it to as a seismic detector. If there's an earthquake, the computer vibrates, the sensor reacts and a software can process the data and draw a graph of the shake. In this case, the software is called SeisMac, and it's free.
Now, the vibrations passed to your desk by your monitors activate the sensor the exact same way, so basically you can make SeisMac draw his graph using some white noise before (speakers right on the desk, with no isolation) and after (speakers with Mopads below), compare the two and get your proof that these pads from Auralex are actually working, even if you're completely deaf! Isn't it cool?
Note: Be aware that only MacBooks feature the Sudden Motion Sensor! Other models like iMacs or Mac Minis are not equipped with that, so you can't use them to make this test!
Closing Considerations (Or Just Get Them!)
In a few words: the Mopads have been an incredible bang for my bucks! The entire set costed me something like $27, which you may think is too much because "it's just foam"…
I like to see the thing from another point of view: a real bargain for the improvement you get.
It's up to you now. You can easily spend money on a new EQ plugin just because it's cool and thinking it will revolutionize your mixes, or you can look somewhere else… I'm not saying the new plugin won't help, don't get me wrong. What I'm saying is that you should think about what's really important first: getting the best sound you can out of your room and speakers! And these isolation pads will get you closer to that!
The Mopads are one of the best places you can put your money on.
Go for the big wins. Choose the right pair of monitors for your room, find the optimal placement then put them above a pair of Auralex Mopads! You won't be disappointed and will be in great shape.
Huge improvement. I should have got them way before!
–
Want to know something more on how your room is harming your mixes?
Make sure to get your FREE copy of my eBook "The Recording Roadmap"!