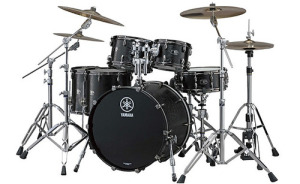 Getting a nice sound out of our drums is one of the most complex tasks we have to deal with while mixing.
Many elements, many microphones, many variables…If you don't get it right starting it out with a good approach, you will get anything good out of your beat. Your mix will sound weak and lack power…
To help you pick the right path, here's the bare-bone method I always apply while working on drums, and not just drums to be honest…
Always Check The Phase First
Don't reach out for EQ or compression until you've checked the phase of the single elements of the kit, first. If your kick drum is out of phase with the overheads, it will sound thin and hollow, no matter how much 60Hz you'll boost in!
To check if everything is in phase, start by soloing the overheads, as they're what causes most serious issues, and then solo each close mic and flip the polarity using a trim or EQ plugin that has the "slashed O/polarity inversion" button. Then go back and forth between the two polarities and listen…
If something is sounding thin, a bit like if you're hearing it thru a metal can and then, once you flip the polarity all the weight and power comes out, then there're phase cancellations happening. With the right polarity, you'll instantly notice more body and weight! As a rule of thumb, the polarity that has more lows wins the fight (unless a phasey tone is what you're after, which might happen).
Rinse and repeat the process for any other important elements of the kit, like snare and toms, always checking it alongside with the overheads.
Start From The Drum Bus
Call this Top-Down approach, backwards mixing or whatever… The point is to start working with the instrument as a whole first, and then move to each single element for further tuning and details. 
In this specific case this means routing all of our drum tracks to a drum bus and then, after an initial rough balance, begin our processing from there.
EQ wise, a few dB boost with a hi-shelf to add up some shimmer above and a couple dB cut around 400-500Hz to carve out some of the boxyness are things I found myself doing most of the times. After that, the whole drumkit might benefit of a few dB of gentle compression. A medium-timed attack should work and let your transients come thru, so everything will tighten up and sound punchier.
Little moves go a long way in that sense; you're just tone-shaping the kit as a whole, not trying to change it.
Stay Away From That Solo Button
Once you got something good out of your drum bus, try keeping yourself away from working on single drum elements with the solo button engaged! Drums to me are like a mix in the mix; many elements that glue together to give us the final drum sound. What you hear when listening to a drum kit in the room is not the sound coming from the close mikes, but rather the sound of the whole drum kit and the space itself… So would be great to keep a similar point of view while mixing as well. And that's something you don't get by working with soloed elements…
Each piece of the kit has an impact on the drum sound and you should always evaluate it in context with the rest! No one will care how cool your snare sounds alone. No one will ever listen to it soloed, indeed! And I think it's a bit pointless and sometimes frustrating to work on an isolated element for a while, making it big, just to discover it doesn't fit with the rest once in context.
So I'd rather make my EQ and compression decisions on overheads, room mics, kick, snare and so on without soloing them, as you need to hear the changes they bring to the table in realtime, not after 2 hours spent dialing in the perfect tone for a specific element!
Note: Please note I'm not saying you should NEVER use the solo button! Don't get me wrong. If you need to check something, let's say how far you went with your hi-pass filter on the snare track, feel free to solo the snare and get the job done. Just don't get addicted to it. Don't let it be the rule that drives your drum mixing.
A Complex Task Gets Simpler
As you can see, we started out with a bunch of elements and a complex task, and then we reduced everything to just a few methodic steps. 
Making things simpler and more manageable is key to get out of trouble when you have to deal with many tracks. If you got stuck with a bunch of background vocals or layers and layers or synths, for instance, use these tips as a starting point… Route them to a bus, look at them as one single instrument resisting the urge of pressing the solo button and then work backwards from there! Get to try it…Rockin' mix is ahead!