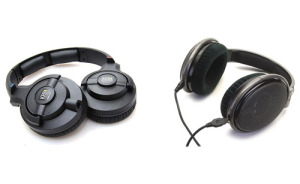 Headphones are one of those essential tools every studio needs… However, they're not all created equal!
You likely have heard there are basically 2 different types of headphones around: closed-back and open-back. They might look fairly similar but their design, sound and field of application are pretty different, indeed. I found sometimes all these differences are not very clear, though.
So today I wanna try to make up some light on what's the deal with their backs, with pros and cons of each design that'll give you a better knowing on the subject and help you choose a model that best fits your needs.
Closed-Back
Let's start with the most common closed-back models. They're designed to provide you excellent isolation in both directions. In essence, it's their biggest strength. The overall isolation gets even better if the headphones has an over-the-ear (circumaural) design. Models like the KRK KNS6400 can give you up to 25-30dB of noise isolation, which is an impressive amount. This makes them ideal for recording purposes, as there'll be virtually no bleed reaching the microphone in front of you.
From an engineer's perspective, this great isolation is a good friend while choosing the best position for a microphone as well, as you can move it around while listening back in real time without being influenced too much by the artist playing in front of you (and yes, works for drummers as well). Huge deal for all of us home studio folks! Following this trail, they'll let you focus more on details while mixing, as they'll well isolate your ears from noises, even in crowded environments.
Too good to be real, right? So here's the downside… The frequency response is usually negatively influenced by the closed cups. There might be some weird reflections happening inside and, due to that, music may sound a bit too much "in-your-head" and a bit boxy. To give you a clue, the feeling is a bit like listening to music in a super dampened vocal booth. A good or a bad thing? You decide.
Open-Back
On the exact opposite, we have open-back designed headphones. The outer shell is somehow perforated (most of the times you can clearly see through it). Thanks to this design, air (and so music) can freely travel and decay in the distance. This gives the headphones a more open, wide and lively sound. Instead of feeling everything inside your head, the whole experience is much more similar to having a band playing in front of you. Much more natural I'd say.
The overall frequency response is better as well, especially for what concerns the low end, which is much more precise in these open-back models. Some Hi-Fi reference class headphones like the Sennheiser HD650s I reviewed a while back can even go down to 30Hz keeping everything tight and distortion free.
Good models can easily give you a more faithful sound representation than the one you're getting in your home studio, as the room itself may heavily fake the way you hear things there, no matter if your monitors are expensive or not. So they're definitely a great choice for mixing and mastering purposes. Be aware that this only makes sense if you're going to use them in quiet environments, as they're not isolated from the outside. Everything will pass thru! People around you can clearly hear what you're listening to (even at low levels!) and any sort of noise will ruin your listening. It's like if you were not wearing the headphones, indeed.
If you followed me so far, you may have guessed open-back headphones are not good for recording. The excessive bleed coming out of their backs will be caught by the microphone by no means. Something want to avoid, don't you?
So Which To Buy?
It all depends on your needs. Are you a recording guy or musician and need lot of isolation? Closed back headphones are the way to go. Is your space relatively quiet and need something more "audiophile oriented", which you can use for precisely assessing your works and enjoying music? Open back. Super simple.
One last advice before I let you get back to mixing is this: don't think that, let's say, 300$ is too much because "it's just a pair of cans"! It's not just what you buy, buy what you get from it in the end. A good set of headphones might not be cheap, but you'll get a solid and reliable point of view from them which, you guessed it, can let you make better decisions while working! You're not gonna get this from that new external preamp you're wondering about, for instance. Consider using that money on a good pair of headphones, instead!