If you're a musician trying to make his first jump into recording and mixing, then this post will get you started in no time! 
With technology becoming more and more affordable these days, there are tens of different affordable options to choose from. They all seem to offer the same features and, especially for newcomers, making the smart choice could easily become a nightmare.
Let me help you with your decision with two complete high quality starter studio packages that will give you all the tools you need to start your journey into digital recording!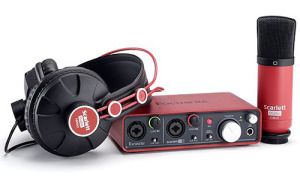 From entry level audio equipment to pro studio desks, Focusrite is famous all over the world for is quality. Despite its price tag lower than $250, this Scarlett Studio is no exception.
At its core there is the Scarlett 2i2, a USB powered 2 in / 2 out audio interface, with 2 combo mic/instruments inputs with high quality microphone preamps built in, a set of outputs for both your monitors and headphones, zero latency monitoring and 48V phantom power.
Last but not least, the box includes a large-diaphragm studio condenser microphone, a pair of studio headphones and all the stuff you need to hook up everything.
Bundled DAW – Cubase LE
The Scarlett Studio comes bundled with Cubase LE, a powerful and well-known digital audio workstation software. Furthermore, and just in case you are not satisfied with the stock plugins you'll find within Cubase, a cool collection of Focusrite software is bundled with this package as well, including virtual instruments, loops, EQs and compressors.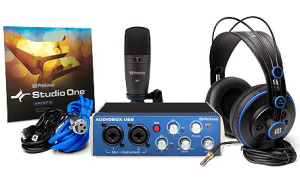 The other great alternative is from PreSonus. They have been in the industry for years with their hardware and have recently become popular with their very own DAW, Studio One, who's been able to rival other long time giants.
The AudioBox USB interface that comes with this studio package features both 2 combo inputs and 2 outputs for your monitoring. As for the Scarlett Studio, it features zero latency monitoring and 48V phantom power, all USB powered.
Like the Focusrite option, this bundle includes a studio condenser microphone, headphones for tracking or mixing and all the accessories as well.
Bundled DAW – Studio One Artist
The major strength of this package resides in the included software, a copy of Studio One Artist. As mentioned above, this DAW is very popular, thanks to its flexibility, features and ease of use. It boasts unlimited tracks count and a slew of professional plugins. As far as I am concerned, I think Studio One is most likely the most user friendly DAW for musicians and recording newcomers available today.
Wrapping Things Up
To summarize, each of the two options above comes with:
-USB powered audio interface with zero latency monitoring for tracking
-2 line/mic/instrument inputs with 48 phantom power, headphones and monitors outputs
-Studio quality headphones
-Studio large-diaphragm cardiod condenser microphone
-Microphone stand adaptor
-Microphone and USB cables
-DAW software packed with a great set of plugins
Pick One And Don't Look Back
Don't waste your time reading about every single audio interface (or microphone or whatever) available around. You will never get somewhere and you'll just, well… waste time! Instead, now that you know about 2 really good sets you can start recording with, just make your choice and don't look back. This is most likely the best advice I could ever give you.
Both of them are great. Both of them give you the tools you need to make it happen.
Neither of them will do the work for you, though. Neither of them will make you a better musician or a mixing engineer. It's just you and how much time you decide to spend learning your tools instead of reading which one to buy. 
There are literally no limitations to what you can accomplish with either of these 2 packages. No more excuses. Follow your instinct, pick your choice and then go make some great music!