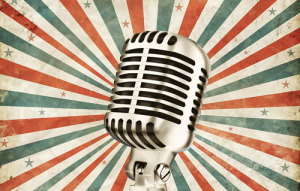 So you want to record something great, right?
Seems you'll need a microphone then…
Well, in this post I will try to give you some advices on which microphone to choose and how much money you should spend on it.
You'll be up and running in no time.
There we go!
Dynamic VS Condenser
Let's make it as simple as we can. The most commonly used microphones are either dynamics or condensers. There are other types of microphones in the world, but you don't need to care about them for now.
Dynamic microphones are more robust, rugged and reliable than condensers: you can drop them without too much risk of damage. They can easily handle high SPL levels, meaning you'll be able to record your snare drum, your guitar amp at full blast and any other very loud source with no issues!
Condenser microphones are usually a bit more accurate on the frequency response and offer an overall more detailed sound quality if compared to dynamics. That's why they're well suited for acoustic instruments, drums, vocals and all the things with wide dynamics. This makes them more versatile in the studio as well.
However, they'll need external power to work: you'll need to give them what's called "Phantom Power" (commonly indicated as 48V). But don't worry! Almost any audio interface will have circuitry with that feature built in.
A Word On Polar Patterns
The polar patterns of the microphone determine how sensitive it will be to sound waves coming from different angles.
Most common are cardiod, figure-of-8 and omnidirectional.
Cardiod will pickup what's coming to the front of the microphone, rejecting sides and rear.
Figure-of-8 will pickup what's coming to both front and rear, rejecting sides.
Omnidirectional is the "perfect sphere". It will pickup everything around the microphone.
At this stage, my advice would be to go for a cardiod microphone. You can consider the idea of getting one with switchable polar patterns though, just in case you want a more flexible thing to experiment with in the future.
What About The Price Tag?
How much should you spend on your microphone?
First, do a full reset of your mind on things like: "I need something expensive to make great music".
Then, here it is my straight answer: don't spend more than 200$ on this first microphone.
Even though there is a chance you can get better results with a more expensive thing, if you're just starting out you won't probably be able to hear all the differences between a 200$ and a 2000$ microphone. Even so, it will cost you 10x the price but it won't give 10x better results!
On top of that, keep in kind you need to know what better actually means in order to be able to make a fair comparison between 2 things.
Let me tell you that a 200$ microphone it's not something you'll toss away in the future. It'll be one of your best weapons during your whole recording journey and you'll appreciate it more and more as time goes by and you learn how to deal with it!
Once you decided your cup of tea between dynamics and condensers, go to your web store of choice, select "microphones" from the products list and set a filter to exclude everything above 200$. Don't even look at more expensive stuff.
Which One To Buy?
I will try to give you focused answers and limited choices.
That's key to go from "I would like to make music one day…" to "I'm making music now!" in no time. These are the same exact suggestions I would give to a friend: a go-to microphone and one of its alternatives. Stop. It's more than enough.
So, if you are on the "dynamics side", go for a Shure SM57. This is a legendary microphone. It's the very first microphone I got when I started my journey into recording many years ago and it keeps giving me awesome results!
Although its price tag is below 100$, every single studio in the world owns at least 1 of them, guaranteed! That's the evidence that, again, you won't need expensive gear to make a rock solid record.
Alternative: Audix i5.
Conversely, if you lie on the "condensers side", the Blue Spark would be a great choice.
You'll get a superb sounding microphone with all the sound quality Blue is famous for. On top of that, it features an awesome "vintage style" look.
Just for their versatility, my advice would be to pick a studio condenser microphone instead of a dynamic. But feel free to choose… Neither of them will disappoint you.
Alternative: Audio Technica 2035.
Go For It Now
Now you should have all the ingredients to move on with your choice and start it out.
Read this article once again if you need to, but please don't think too much about it! Don't go nuts reading tons of reviews; make your decision and then move on.
Your music really deserves this!
If you're still confused on something or just want to tell me more about your choice, leave a comment below!