Pro Tools is a very powerful DAW, but it can be even more powerful if you get used to some keyboard shortcuts… Why? Because every operation you can do by using just your mouse, you can do much faster using a shortcut!
There are tons of different key commands, but you don't need to know them all to boost the speed of your workflow by 10x.
Here's my personal selection of the essential ones I use day in day out.
Keyboard Overview
All of the commands I'm going to show you make use of the Control, Option, Command and Shift keys.
If you don't know where they are, just look at the image below.
(If you are on a Mac, your keyboard should look similar to this one).
Note:
These key commands are for Mac OS X!
If you're on a Windows machine, be aware you should replace:
Opt = Alt
Cmd = Ctrl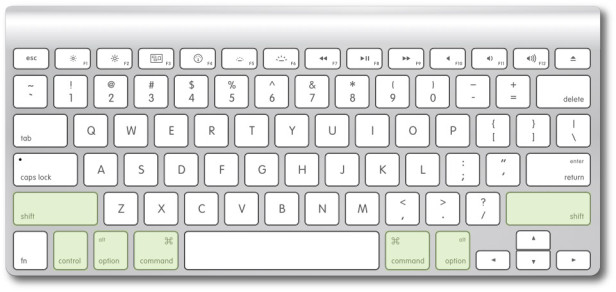 Shortcuts Best Of
Toggle Between Mix/Edit Window: Cmd+Shift+0
(Super useful if you work on a single screen!)
Create New Track: Cmd+Shift+N
Duplicate Track: Opt+Shift+D
Shift+Option+Click to make changes to the selected tracks only
(For instance, if you want to mute a selection of tracks…)
Horizontal Zoom (+): T
Horizontal Zoom (-): R
Enable/Disable Insert Or Send: Cmd+Ctrl+Click
Toggle Bypass On All Inserts/Sends In A Row: Opt+Cmd+Click
Create New Group (with relative tracks selected): Cmd+G
Enable/Disable All Groups: Cmd+Shift+G
(With the mouse cursor on one or more tracks)
Mute: Shift+M
Solo: Shift+S
Record: Shift+R
(With one or more regions selected)
Duplicate Region: Cmd+D
Repeat Region: Cmd+R
Consolidate Regions (Conform): Opt+Shift+3
Now You Have The Turbo!
Here it is, pretty simple!
Now you can choose if you want to keep using the DAW with just your mouse, basically walking with two blocks made of concrete hooked to your feet, or use the turbo you got and start running! Have fun!
By the way…these were the shortcuts I personally use most, but you may have some different killer ones. 
Share some of them with a comment… Can't wait to check them out!