Perhaps you already know you can set your default EQ and compressor to show up above everything else on the list…But do you know you can do more than just that?
Today I want to go a bit deeper on this subject, sharing a really simple (yet not so publicized) trick to create your very own list of favorite plugins.
Instead of being limited to just a couple of tools, you'll be able to pick any plugin you want and put it on top of the others, so it can always be just a click away from you! Isn't that cool? Let me show you how to do it very quickly…
What You're Going To Get
A picture is worth a thousand words, right? So let's start by looking at what we're going to get in the end. Here it is. Have a look at this picture…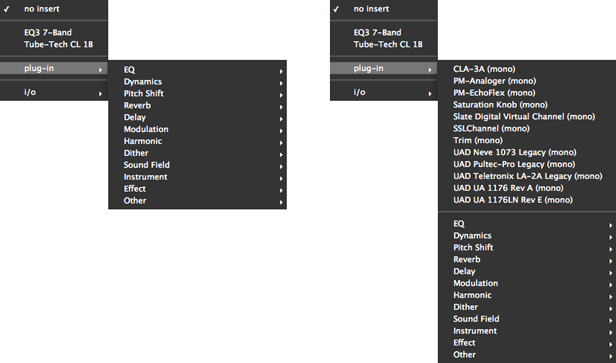 The list on the left is the stock list Pro Tools generates, with plugins sorted by Category.
As you can see, I already set my default compressor and EQ. Those are reported as EQ3 7-Band and Tube Tech CL 1B and appear in their own list, as expected.
Anyway, the list on the right is different. Instead of showing all the plugins sorted by Category, it shows a set of plugins with no relationship between each other. They're sorted alphabetically but nothing more. As you may have noticed, there are compressors, EQs, channel strips, effects and so on.
That's the list I created based on my personal preferences and on the tools I use more often, for super fast and easy access. Here's how you can create yours!
Just A Cmd + Click Away
Simply access your plugins menu the same way as if you were going to add a plugin on an insert. Now locate the plugin you want to be added to your list, and then Command-Click on it (Control-Click if you're on a PC). 
The plugin won't open up, and that's the proof everything worked. If you access the menu again, you'll see the plugin has been added at the top level of the list. Done!
Want to remove it? Just Command-Click or Control-Click the plugin again to get rid of it. Et Voila!
Separate Lists
You can have different top-level lists for every different menu. You can set up a list for Mono plugins, then a different one for Stereo plugins, and the same applies for the RTAS/TDM menus (if you're running an HD system), as well as the Audiosuite menu.
Just Another Way To Save Your Time
Spend some time writing down on a piece of paper the plugins you use each and every time…
Do this thing for both the Mono and the Stereo plugins. For instance, that awesome compressor you use on your 2-bus should be placed in the stereo list, right…?
Be precise. Don't add any plugin you like. You don't need a new crowded list above the old super crowded one. Focus on the ones you tend to use the most.
Making an accurate selection will take you some time, but I'd rather to spend it now and then forget about it, instead of having to remember which category or manufacturer a plugin belongs and have to scroll down its list and so on…
This trick is nothing fancy, but in the end it will make your workflow a lot smoother.
Believe it or not!
–
Make sure to check the other segments of Pro Tools Diary to get the best out of this awesome DAW!