Sometimes you may need to open up multiple instances of the same plugin while working on a session (console emulation anyone?)…
Unfortunately, by default each plugin opens up with a factory preset loaded, that may or may not be what you need. It might be just an empty preset, meaning it will do nothing, for instance…
Or perhaps, if you need the SSL emulation and the plugin loads up the Neve one by default, you'll need to spend some time tweaking stuff here and there…
You'll lose focus, waste time and things like that… Not a great thing.
But here's how to tell your DAW to open up a plugin with your specific preset in 3 easy steps!
Create And Save Your Preset
You'll need to create your custom preset for a plugin first.
So open up your plugin of choice and tweak its settings to taste.
When you're done, simply save your preset by clicking on the tiny downward arrow just above the preset name and choosing SAVE SETTINGS AS from the menu.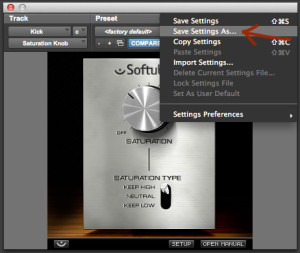 Note: The <factory default> line will be replaced with your preset name.
Set The Preset As User Default
Click again on the same tiny arrow and select SET AS USER DEFAULT from the menu.
Edit Opening Preferences
Lastly, you'll need to tell the DAW to load your custom user preset instead of the factory one.
To do so, click on that tiny arrow once more, move the cursor to SETTING PREFERENCES, then SET PLUG-IN DEFAULT TO, and click on USER SETTING.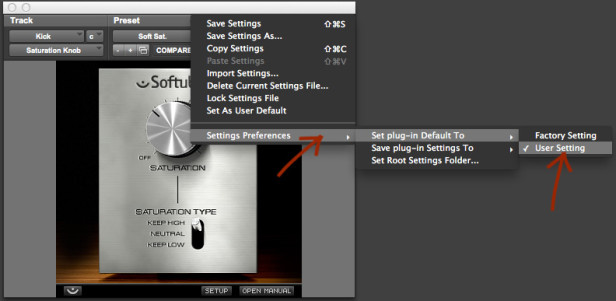 That's it! You're done.
Feeling Faster Yet?
I love being quick. I hate to rush, sure, but I hate to waste time as well…
I find this little tip, merged with my favorite key commands I posted about a while ago, really helps me on that side, especially when I have to deal with lots of tracks.
I'd rather to spend my time making music and getting creative instead of fighting with my DAW.
So here's how to enhance your workflow in a minute! Hope you enjoyed this quick tip.
If you have a minute, do me a favor and share something like this tip you absolutely can't live without while working. Leave a comment below!
–
Just in case you're wondering which is that plugin in the images above, it's the Saturation Knob by Softube. It's simple and straightforward and the good news is that you can get it absolutely for free. Check this post!