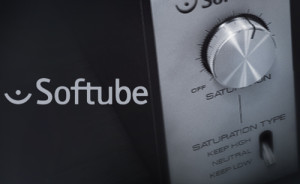 If you've been a Pro Tools user for a while, then you'll probably know about all the good plugins that come bundled with the DAW.
The DigiRack and the AIR bundles alone are fantastic and will give you all the tools you need to craft a superb sounding mix!
However, there's a useful tool that's missing…
A great plugin that's not included, but should seriously be, is the "Saturation Knob" from the popular plugin manufacturer Softube.
The good news is that you can get it for FREE, right now, in AAX format compatible with both Pro Tools 10 and 11.
Note: this plugin comes already bundled with each copy of Studio One 2, and it's available for SONAR and Reason as well!
Spice Up Your Tracks
The Saturation Knob is a very straightforward and versatile distortion plugin, meant to add smooth tape-like saturation to the signal it's affecting, coloring it with some analog overdrive and a hint of compression.
It works great for giving some analog "warmth", "color" and "fatness" to your tracks, while helping reduce the sometimes too-much-clinical sound of the digital domain.
Just A Big Knob And A Switch
With its big knob, you can dial in the amount of harmonic distortion you want in no time, spacing from just a hint of sauce to spice up your bass to a complete distortion mayhem for your drums.
Aside from the main knob, it comes with a simple 3-toggle switch meant to give you a bit more flexibility. Leaving it on the "Keep Low" position, you can keep the low end of your sound fairly intact, while at the same time overdriving the rest of the signal. Vice versa, you can switch it on the "Keep High" position to preserve the highs. Lastly, the "Neutral" setting will tell the plugin to apply its colors to the whole sound.
A super cool thing is that the Saturation Knob is not CPU expensive, so you can easily put it across multiple tracks if you will. You can even try to emulate a full analog workflow by loading it on every single track!
…And I'll tell you a secret: I used it in mastering as well with great results!
Since It's Free, It Will Sound Bad, Right? Wrong.
Now maybe you're wondering something like this: "Well, but if it's free, it won't sound that good…". Think again…
This Saturation Knob sounds literally amazing. It's by far one of the best free plugins around.
On top of that, as said above, the plugin is made by Softube, one of the most loved plugin manufacturers in the world…They have to maintain their good reputation and I don't think they would have put shame on them by releasing a crappy plugin, even if it's free.
So what are you waiting for?
Here's the download link…Go get it now!
I think you won't be disappointed.