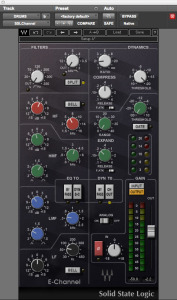 Have you got a go to plugin you use on every single mix?
I do. It's the SSL Channel from Waves.
In a few words, this plugin is a virtual emulation of the famous SSL 4K console channel strip (both G and E versions), one of the most used desks of all time.
Conversely on what you may expect, it's not my favorite because of its sound quality (although it sounds awesome!)…

I love it because it takes me right where I want 90% of the times with as less moves as possible, even if it actually seems lacking some features.
Or maybe not…
The "Lack" Of The Visual Feedback
First cool thing: you won't get visual clues from this plugin.
The only visual feedback you get is a simple gain reduction indicator, enough to check if you're compressing too much. Stop.
Graphs that show you EQ curves and how a compressor is acting may be useful but I think having something that tells you its own version may lead you to second guessing and doubting yourself.
Without visual indications, I have to rely on my ears only (even making bad choices sometimes) but always getting better at hearing things and committing to my guesses without over thinking too much about them, instead of being slave of a display.
It's crucial to keep you on track while working and to make you feel more confident over time.
After all, if it sounds good it IS good, no matter what a graph is telling you.
The "Lack" Of More Bands
If you got used to a 7-band fully parametric EQ, this SSL emulation will offer you a bit less; it's not as flexible and customizable as let's say, the Digirack EQ that comes with Pro Tools, but we shouldn't forget that golden "less is more" rule. The more processing you put on a track, the worse it will get…
Most of the times, all I want to do to a track EQ wise is to hi-pass it, clean up some muddy frequencies in the low-mids area and maybe boost or cut something else in the upper regions.
This plugin let me do all of that very quickly with its simple and straightforward knobs, by limiting my guesses at the same time and preventing me to think: "Uhm, I just used 2 bands out of 7 on this plugin…(It's empty…maybe I should process it more!!); perhaps I should set the Q to 1.2 instead of 1…".
Did you ever felt this way?
The "Lack" Of More Parameters
But it's not over yet…
Only 2 bands have a customizable Q, then you have a quick "Bell" button with a fixed width for the 2 shelves. The slope for the Hi-Pass and Low-Pass filters is fixed as well. Super quick to deal with.
And on the dynamics side, the attack time knob is missing; there's just a tiny switch with 2 fixed values that have been carefully chosen by the engineers who developed the original console to work well on almost anything.
Few choices: try and hear which one sounds better given the track. Done! Move on…
Think Analog, Work Digital
The trick with this plugin is that it forces you to think "the old school way", as if you were in front of an old analog desk. You're constrained to listen and churn out something good with just a few moves at your disposal, and this single thing is one of the "unspoken secrets" that'll make a better mixer out of you!

This tool gives you just a handful of EQ bands, a section for controlling dynamics and some other useful features (like input gain and phase inversion…), and that's all you really need to make a track sound good! All the rest is just topping.
Furthermore, as with the original channel strip, you have instant access to all the processing on a track with just one single click. No need to go back and forth with other plugins means more focus, a lot of time and frustration saved and overall better results.
If I'm not getting something good out of it, I know it's not because I don't have that missing XYZ plugin, but it's likely my fault as a mixer. "Try again and learn from that, Fab!".
That's why I really love this plugin. By limiting you, It really helps you improve!
Sounds ridiculous but it's true!
And…did I say it sounds amazing as well!?
Now… Do you need this tool to make a great mix?
Of course not! This is just my pick and I'm used to it, but there are plenty of alternatives around that will put you in the same way of thinking, and that's what really matters in the end. It's not the brand or how cool and expensive the plugin is. It's all about getting into the right mindset!
What about you…?
Have you got a favorite plugin in your arsenal? How is it helping you getting better music?
Share your experience in the comments below!