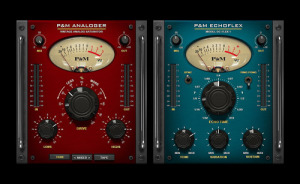 Got something special for you today! (Snare rolls…) There's this super cool software company called Plug&Mix… They're getting more and more popular as time goes by because their plugins are super affordable and, most important, they sound very good!
But the best is yet to come! (Snare rolls keeps going…) This is not the first post about a free plugin, but this time is different…
The Plug&Mix collection includes more than 40 different plugins to choose from and you can pick the one you like the most…and get it absolutely FREE! (Crash!)
From Retro Compressors To Amp Simulation
The whole collection is really big and includes a wide variety of tools: classic EQ and compressors, delay, reverbs, modulation effects, amp simulators, crazy effects and more. There's really much to choose from…
Each plugin is pretty straightforward and very easy to use. Few settings, big knobs and VU meter and great sound. No need to read the manual, straight to the point! But to let you know something more about all the different flavors, here're my 2 picks from the P&M collection.
The Analoger
The name says it all! This is most likely the one I love the most of the entire collection. By emulating both tubes and tapes, it brings analog vibe, saturation and character to your track. All you have to do is dial in the amount of drive you're after with the big Drive knob and that's it!
You can even mix the 2 different colors at the same time and fine tune your sound with the Lows and Highs knob. Last but not least, a handy Mix knob lets you do some parallel processing as well.
Alongside the other free Saturation Knob plugin, this is the most convenient and easy way to bring your tracks some analog mojo without spending a dime!
The Echoflex
This plugin is based upon an old Echoplex tape delay guitar unit. As a big fan of delay pedals, I really love this plugin because of its "old-school" attitude. Although you can get fairly clean repeats out of it, this plugin really shines when you want to add some dirty analogy echo effects to your tracks!
Set your delay time with the Echo Time knob (both milliseconds and tempo sync are available), then dial in some Sustain to get the desired amount of feedback. Lastly, use the Tone knob to roll-off some highs and make it a bit darker for instance, add some modulation and vibe with the Variation Knob and listen to how cool it sounds.
This delay is second only to my vintage EH Deluxe Memory Man pedal, my first love… But in the digital world most of the times this is my go-to analog-like delay!
Which One Will You Pick?
As said above, these are just my personal pics and there are many other plugins in the P&M collection. You can demo the whole bundle and, once you're done, get the plugin you liked the most absolutely for free!
All you'll need to do is leave a like on the Plug&Mix Facebook Page and you'll instantly get your activation code via email. Head over to this page and see by yourself!
Note: You can always add more of these plugins to your pocket for a ridiculous fee… Their list price is $49 but you can get them for $39 each if you buy'em at DontCrack.com!
So which will be your first free pick? A lush plate reverb? A clean Fender Tweed amp simulator? The almighty Analoger? Leave a comment below and let me know!