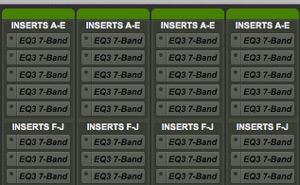 Got a really quick and useful tip for you in today's installment of Pro Tools Diary.
In this post you'll learn how to fire up a session with all its plugins inactive.
I know what you're thinking: "Why the heck would I need this?".
Well, I think there are pretty good reasons, indeed.
When You Might Need This
For instance, let's say you need to reopen a project you did a year ago…
Software updates move on so fast that something might have changed…
Maybe you just updated Pro Tools to the latest version, or maybe you just updated, replaced or trashed some plugins… It happens, right?
So you double click on you session, everything seems to load properly but then, all of a sudden, Pro Tools crashes in all its glory. All you get on screen is a weird message filled up with errors.
The session won't load because something didn't work between it and the plugins that were loaded.  No matter how many time you try to launch it, it won't open! And if it's old project for a client, what're you going to tell him?
Or maybe you just want to reopen a really "heavy" session,  just to check something somewhere, but without the need of having each single plugin instantiated.
In cases like these, having the chance of launching the session with every plugin inactive might just save your day (and your session!).
Load It Up With Every Plugin Inactive
If fact, opening a session will all the plugins inactive is really easy.
Just double click on your session while pressing down the Shift key on your keyboard. Pretty simple.
You'll get your session as you left it but,all the effects will be completely inactive, and so now it will launch with no hassles.
Then you can go thru each one of them, reactivate the ones you want, spot which one was causing the error and get out of the trouble.
Note: And don't forget you'll be able to open up all the projects you created with PT10 on PT11 (which, as a reminder, won't load any RTAS format plugin and works only with AAX).
Save A Newer Version
Once you're done, just save the session with a new name by clicking on FILE > SAVE AS…
You original session (the one with all the plugins enabled) will be preserved, just in case you'll need it in the future, and you'll have a new, completely working one at your fingertips, ready to go.
Closing Words
This tip is not something that will dramatically change your workflow, give you better sounding mixes or things like that…Instead just something you might really need occasionally.
Just like knowing how to do a proper backup of your works, knowing this trick may just put you from "Sorry Mr. Client, unfortunately I had troubles…" to "All right, I'm ready!"; or maybe just let you rework some of your old musical ideas without struggling with the DAW.
Whichever is your case, it's good to know tricks like this!
Stick this little tip in your brain or write it down on a post-it…Just be aware you might just need it in the future.