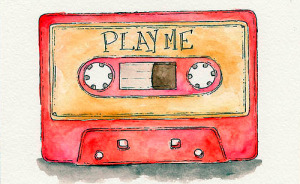 There is one thing that is even more important than delivering a great sounding mix. The mix needs to be catchy and engaging. Most likely no one will care about your amazing sound if the song is boring. Fact.
Sure, it depends on the arrangement itself to start with, but it's our responsibility as well to create interest and emotion somehow and do something that can hold our listeners back from skipping after the first chorus.
So here are some simple hacks you should definitely know about. These will point you in the right direction towards making better mixes, with a less technical and more creative approach.
#1. Delay Throw
The idea here is to pick a specific word or phrase in the lyrics of the song and trigger a delay to clearly repeat that part only. This way you can highlight that specific moment and create some nice contrast. For the rest of the song, the delay stays off (you don't want to mess everything up, don't you?).
Simply create an aux track, slap a delay on it and create a bus to send your vocals to that track. Pick a delay time that fits the song or the word, with 2-3 feedbacks, then automate everything to pop out when needed. 
Seek for vocal breaks or dead spaces in the lyrics, like at the end of a phrase, and try a delay throw there to fill in that blank space before the next section begins. You can get creative with it in many different ways; make the delay come out just from one side, or one time on the left and one on the right. Just play a bit with the pan pots.
Hear it on: Katy Perry's "This Moment", around 0.34. Listen to the words "one day".
#2. Telephone/Megaphone Effect
Let's say you need to put some magic on that not-so-great bridge section in your song… After 2 minutes or so, something unexpected is needed, and the telephone effect might just be a great idea. On top of that, it is instantly recognizable by every listener, as we all know how a telephone "sounds".
Grab an EQ and use the built-in hi and low pass filters to cut out everything below 650Hz and above 2.5kHz, then boost up all the stuff in the middle (around 1.5-2kHz) by 10dB or so.
You don't have to be that precise. It's very loose. We're not trying to mimic a specific telephone, but rather creating an interesting filtering effect like the tin-can trick I'm suggesting in my FREE eBook. Feel free to try this filtering effect on just the vocals, something else or, why not, to the entire mix as well!
Hear it on: Green Day's "Holiday", around 2.20.
#3. Distorted Vocal
If you don't know what to do, distort it! Jokes aside, especially on very clean sounding mixes, distortion might be a good friend. Used on a section or instrument will make that part very different from the rest, and this will keep the listener engaged once more!
Want to make the second verse different from the first one? Heavily distort the main vocal for that section. The mix will sound a bit more squeezed and lo-fi but then everything will literally explode when the second chorus hits!
Pick a distortion plugin or a guitar pedal and make that section a bit more nasty.
Hear it on: Taylor Swift's "Shake It Off", around 2.20.
Unleash Your Creativity
Nobody said you have to use each hack on its own! Try stacking them up!
What about a telephone filtered delay throw? A very distorted telephone effect? And why not use all of them together to get a distorted and filtered delay throw bouncing from left to right for a few seconds.
From the pure listener's perspective, the vocal is the most important thing. That's why these hacks are most used on vocals, as you can easily catch his interest by acting on the thing he's more touchy.
But again, no one is holding you back from trying them on any other instruments with awesome results!
For instance, want to give your sax solo a bit more shine before it decays? A delay throw on its last note might work just great! You have that killer guitar riff playing alone before the band kicks in at the beginning or during a break? Try the telephone effect on it! Is that drums fill sounding a bit lonely? Destroy it with some distortion.
Think As A Listener
These techniques are used everywhere, from Rock to R&B. Just listen to some of your favorite tracks and you'll notice them.
3 hacks, tons of possibilities. Leave the technical side of mixing alone for a moment and let some creativity flow. Think as a listener. Remember, listeners won't care about your mix if it lacks interesting details! Add them up!
By the way, is there any creative trick you love using to make your works a bit more vibey? Leave a comment below.